CommunityNotice & News
Excellent Certification Body Award
HIT : 2,692
Article on "Eco-Friendly Monthly Magazine"
(Most recognized magazine for Eco-friendly Agriculture)
Translations Included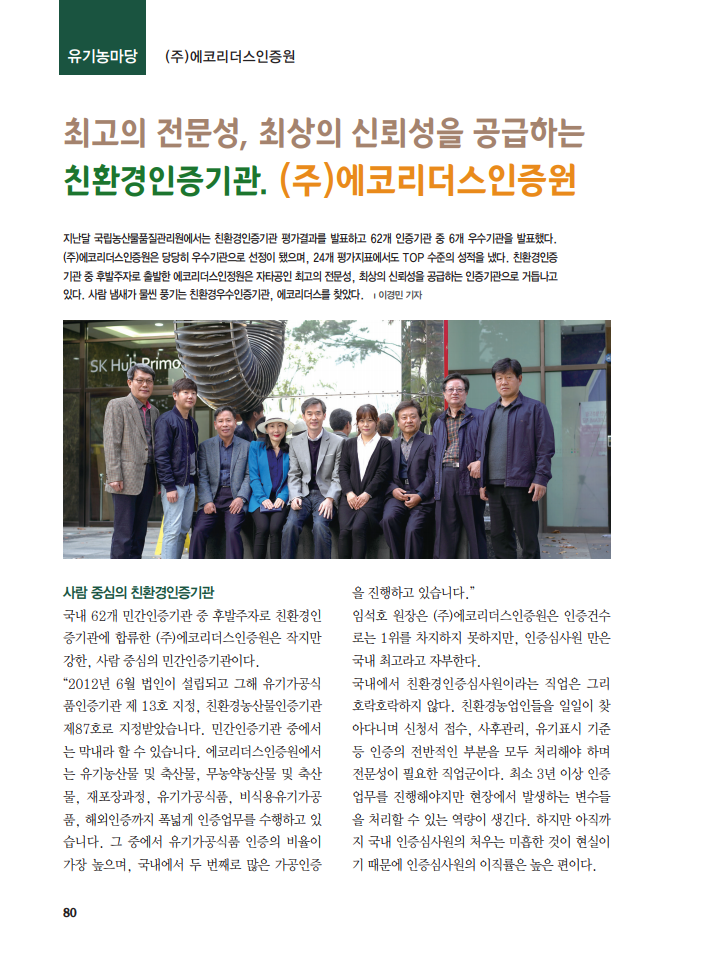 Eco-friendly certification body that provides the best professionalism and the best reliability.

Last month, the National Agricultural Products Quality Management Service released the evaluation results of eco-friendly certification bodies and announced 6 "Excellent Certification Bodies" out of 62. Eco-Leaders Certification Co., Ltd. was proudly selected as "Excellent Certification Body" organization and achieved the highest score in 24 evaluation indexes. Eco-Leaders Certification Co., Ltd. who started as a latecomer in the organization, is becoming a certified authority that provides the best professionalism and the highest reliability. (Reporter Kyung Min Lee)

People-oriented eco-friendly certification body

Among the 62 private certification bodies in Korea, Eco-Leaders Certification Co., Ltd. joined late in this area, however yet they are one of the strongest and most people-oriented certification body in Korea.
"In June 2012, the corporation was established, and was designated as No. 13 for Organic Processed Foods and No. 87 for Eco-friendly Agricultural Products. It can be said as the youngest private certification body. Eco-Leaders Certification Co., Ltd. conducts a wide range of certifications, from organic agricultural products and livestock products, non-pesticide agricultural products and non- antibiotic livestock products, repackaging processes, organic processed foods, animal feed products to overseas certifications. Among these, the percentage of certified organic processed food is the highest, and they also have the second highest processing certifications in Korea. "
Seok Ho Im, the C.E.O of Eco-Leaders Certifications Co., Ltd, is proud to say, although they do not have the most certifications, they have the most qualified certification auditors in Korea.
Being an eco-friendly certification auditor is not an easy job in Korea, It is a professional group that needs to deal with all aspects of certification such as seeking eco-friendly farmers daily, application reception, follow-up management, and having the knowledge of all types of certification standards, At least 3 years of certification work is required to be able to handle the variables that occur in the field. However, since the domestic certification auditor's treatment is still insufficient, certification auditor's turnover rate is high. Eco-Leaders Certifications Co., Ltd, consists of six full-time auditors, three part-time auditors, and one preliminary auditor. All of the auditors who worked in the company in 2012 have been working so far. This also means, Eco-Leaders has the highest quality professionalism which is the most important factor in eco-friendly certifications. Professional auditors have been carrying out 6 years of systematic farm management which was an important factor for evaluation from the National Agricultural Products Quality Management Services.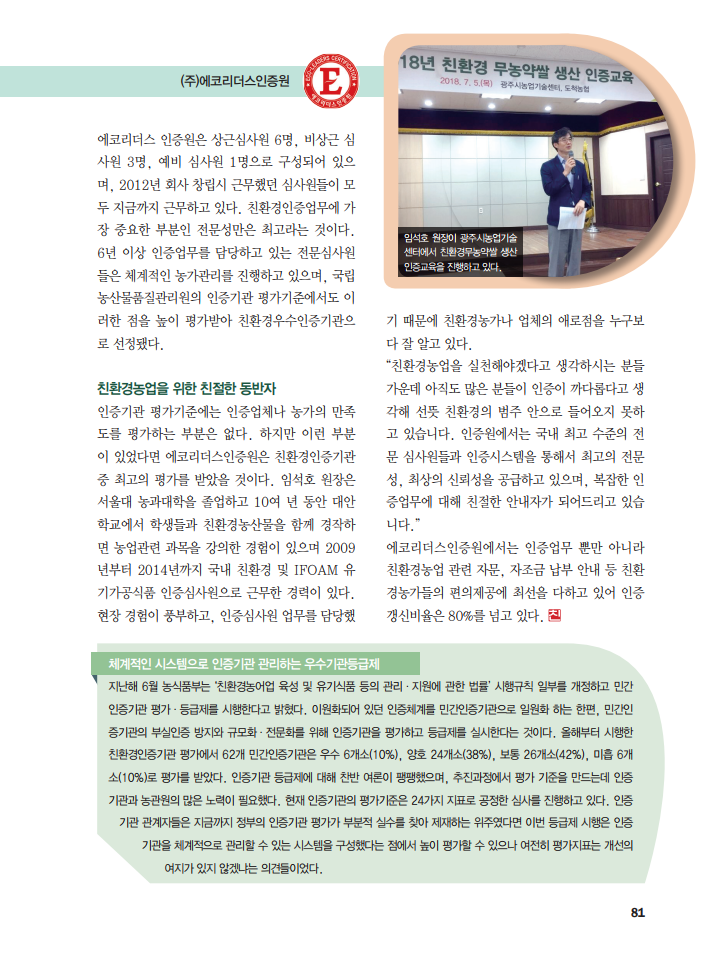 Friendly companion for eco-friendly agriculture

There is no part of the certification body evaluation criteria that assesses the satisfaction level of certification companies or farmers. However, if this was the case, Eco-Leaders would have received the highest evaluation among eco-friendly certification bodies in this criteria. Im, Seok Ho, graduated from Seoul National University, College of Agriculture, He has lectured on agriculture-related subjects when farming eco-friendly agricultural products with students at the school. He has also worked as a certified eco-friendly and IFOAM organic processed food certification auditor from 2009 to 2014. Since he has plenty of field experience he knows the difficulties in both eco-friendly agriculture and eco-friendly certification work.
"Many of those who think that they should implement eco-friendly agriculture still do not come into the category of eco-friendly, because they think certification is tricky. Eco-Leaders provide the best professionalism and the best reliability through their highest qualified certification experts in Korea. Experts who truly understand the system and are willing to become a friendly guide to complicated certification work".
Eco-Leaders is doing its utmost to provide eco-friendly farmers with not only certification services, but also eco-friendly farming advice and information which resulted in over 80% in renewal rate.